Richard D Fisher Jr - Jane's Defence Weekly
30 November 2017
理查德·费希尔-简氏防务周刊
2017年11月30日
DigitalGlobe imagery showing five Type 726A LCACs at Jiangnan Shipyard near Shanghai. Source: 2017 DigitalGlobe, Inc. / © 2017 IHS Markit
DigitalGlobe图像显示在上海附近的江南造船厂五艘726A型LCAC。来源:2017 DigitalGlobe,Inc. /©2017 IHS Markit
Commercial satellite imagery of China's Jiangnan Shipyard near Shanghai shows that the country is producing additional Yuyi-class (Type 726/726A) air-cushioned landing craft (LCACs).
中国上海附近的江南造船厂的商业卫星图像显示,该国正在生产额外的玉义级(726/726A型)气垫登陆艇(LCAC)。
Five Type 726As that appeared to be nearly completed could be seen at the yard on 24 November.
在11月24日似乎接近完成的五艘726A型可以在工场看到。
Six Yuyi-class LCACs are believed to be in service with the People's Liberation Army (PLA), with the first one (3320) being seen at the end of 2007. It is thought that the vessels were delivered in two batches, with the first three LCACs reportedly powered by Ukrainian UGT 6000 engines, while the remaining three are believed to use the indigenous QC-70 gas turbines.
据信,六艘玉义级LCAC在中国人民解放军(PLA)服役,第一艘(3320号)在2007年底被看到。据认为,船只分两批交付,第一批据报道,三艘LCAC由乌克兰UGT6000型发动机提供动力,而其余三艘则被认为使用本国QC-70型燃气轮机。
Up to four Yuyi-class LCACs can be carried in the well deck of the 210 m-long Yuzhao-class (Type 071) landing platform dock (LPD). The first of these 20,000-tonne amphibious assault ships was commissioned in 2007, and a fifth LPD, which was recently launched at Shanghai's Hudong-Zhonghua Shipyard, is expected to be commissioned in 2018.
在210米长的玉昭级(071型)两栖船坞登陆舰(LPD)的井甲板上,可以运载四艘玉义级气垫登陆艇(LCACs)。这两艘2万吨级两栖攻击舰中的第一艘在2007年服役,而最近在上海沪东中华造船厂下水的第五艘两栖船坞登陆舰(LPD),预计将于2018年服役。
One reported reason for the lag in Type 726 production could be technical difficulties with the integration of the QC-70 engines.
据报道,726型生产滞后的原因可能是QC-70型发动机整合的技术难度。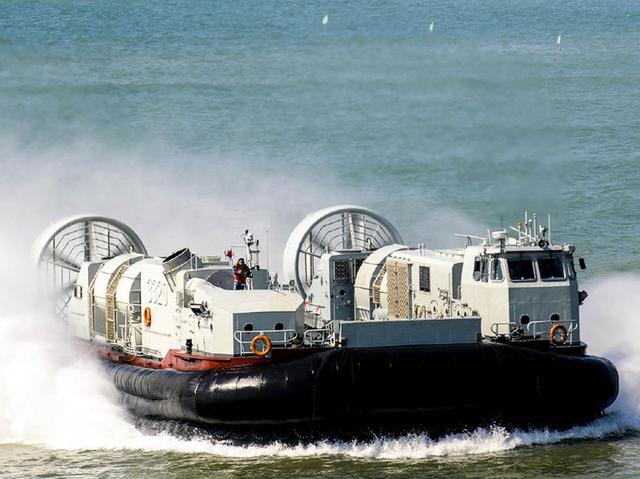 Designed with assistance from the Chengdu Aircraft Industry Group, the Type 726 looks similar to the US Navy's LCAC, but is larger and has its driving/command module located on the port side instead of the starboard side.
在成都飞机工业集团的协助下,726型与美国海军的LCAC类似,但较大,其驾驶/指挥舱位于左舷一侧,而不是右舷。
A Chinese Type 726 LCAC approaches the well deck of a Type 071 LPD during an amphibious landing exercise in November in waters of the South China Sea. (Via eng.chinamil.com.cn)
在十一月份一艘中国726型气垫登陆艇(LCAC)在南海水域进行两栖登陆演习时,接近071型LPD的井甲板。(通过eng.chinamil.com.cn)